What Makes a Great Place to Work
Three steps to cultivating and maintaining a positive workplace culture 
By: Stacey Lamendola  |  Human Resources
Company culture is the backbone of any successful organization. According to a recent survey, 83% of respondents rated company culture as important when deciding where to work. When cultivated well, a positive company culture will unite people through a shared set of values, goals, attitudes and practices, and can create a real sense of community and belonging for employees, boosting productivity and decreasing turnover. 
W. P. Carey was recently certified as a Great Place to Work in 2022 thanks to the positive culture fostered by our team. In fact, 96% of survey participants said it's a great place to work – 39 points higher than the average U.S. company.
What are the qualities that make a great company culture and ultimately a Great Place to Work? Learn W. P. Carey's keys for success below.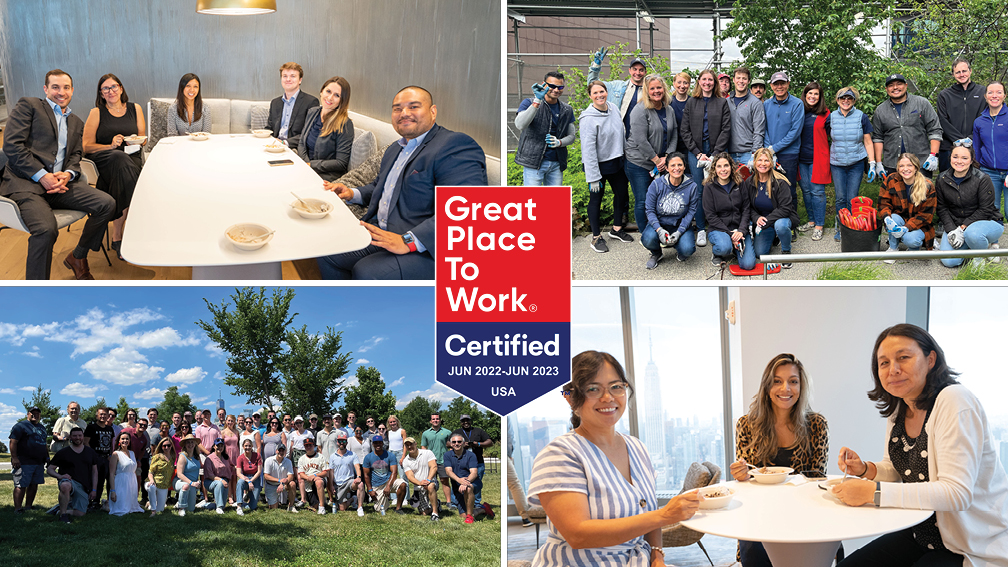 Cultivate a values-driven workplace
In a values-driven workplace, employees find alignment between their personal values and the organization's values, creating a unified and motivated workforce. At W. P. Carey, our four core values have formed the foundation of our culture: we invest for the long run, our people are critical to our success, we believe in Doing Good While Doing Well® and we value doing what is right. Our culture is nurtured by continually putting those values into action, from everyday business, to volunteer programs, to treating each other with dignity and respect. 
Management plays a critical role in maintaining a values-driven workplace, as they "walk the walk" and uphold our four core values through their leadership. 
Develop a collaborative and friendly environment
W. P. Carey creates an environment where employees operate as a team. No job is too big or small and all voices matter. To that effect, W. P. Carey maintains an open-door policy – dialogue and discussion is not only welcome but encouraged. 
Collegial debate is critical to the success of the business. When making decisions, we will always move forward with the best idea, regardless of who brings it to the table.
W. P. Carey maintains a relatively flat and lean organizational structure. The company is not focused on hierarchy and employees get to know everyone at every level. This creates a unique opportunity for employees to directly work with and learn from more tenured executives, which enables them to hone their skillset and grow in their role. 
Prioritize respect
A respectful workplace prioritizes fairness, equality and inclusion for all employees. At W. P. Carey, employees understand the impact of their behavior on others and act accordingly, remaining mindful of personal differences and ensuring all opinions are heard. This creates an environment where employees feel valued and are comfortable actively expressing their ideas. 
W. P. Carey encourages employees to "bring your whole self to work" – meaning the company wants to get to know who you are outside of the office. Employees share their passions, talk about their hobbies and most importantly bring a sense of humor into the workplace. This builds real relationships and creates a supportive and uplifting environment where respectful collaboration is natural.  
Conclusion
Building a strong corporate culture is not a passive activity. Unless you continue to cultivate it, culture won't grow. It is also dynamic and should change over time to reflect the evolving beliefs and values of the company.
Ultimately, investing the time and energy into building a positive culture is well worth the effort. Positive workplace culture boosts motivation and productivity, increases employee satisfaction, attracts new talent and reduces turnover. Perhaps most importantly, it turns a good place to work into a great one. 
Associated topics to browse: