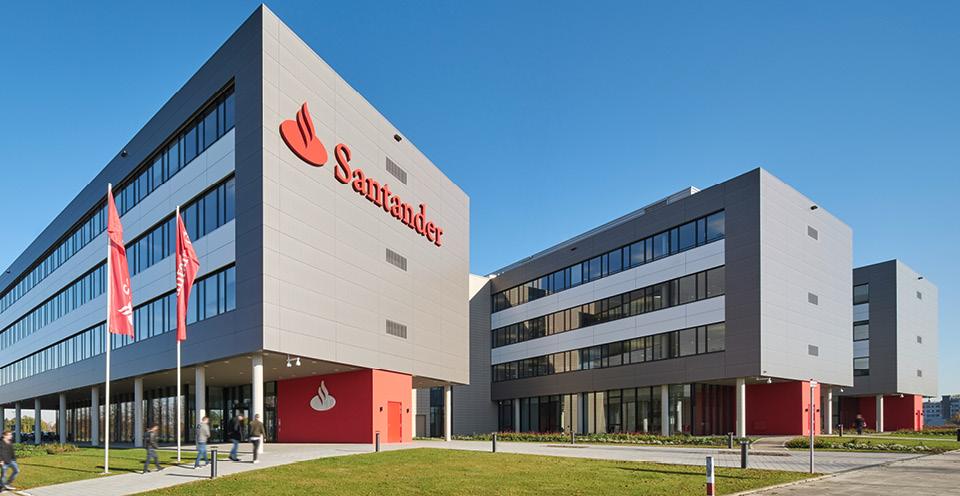 Build-to-suit of Class-A office in Germany
Banco Santander S.A.
W. P. Carey provides 100% funding of construction cost, enabling tenant to grow German footprint
Description: Banco Santander is one of the world's leading banks and fourth largest in Europe (as of 2019). It has over 14,000 branches worldwide—more than any other international bank—and over 100 million customers.
Total Investment: $53 million
Transaction Type: Build-to-suit*
Location: Germany
Square Footage: 212,000 square feet
Facility Type: Class-A office facility
In 2013, W. P. Carey funded $53 million for the build-to-suit of a 212,000-square-foot office facility for Banco Santander, one of Germany's top five banks and one of the largest globally with over 100 million customers and a presence in more than 40 countries. The Class-A office building was completed in 2015 and is located in the Nordpark area of Monchengladbach, Germany, a growing business park with excellent transport connections. The facility enabled Banco Santander to consolidate several office locations into one and provided critical support for the bank's growing operations in Germany. The facility includes the company's headquarters and serves as its primary business location in Germany. Upon completion of construction in 2015, the brand-new facility was triple-net leased to Banco Santander for a term of 20 years.
This strategic transaction demonstrated W. P. Carey's German-market expertise and added to its portfolio a mission-critical facility located in one of the strongest economies in Europe and leased to an investment-grade tenant. Banco Santander also shares W. P. Carey's commitment to high ESG standards, having announced in 2021 its ambition to achieve net zero carbon emissions across the group by 2050.
*In a build-to-suit, W. P. Carey funds and manages the construction of a new facility or the expansion of an existing one custom built to meet the unique specifications of a prospective or existing tenant. Upon completion of construction, the company enters into a long-term net lease with W. P. Carey, while securing full operational control of the new or expanded facility.