Marina Folz
Asset Management
Vice President
Employee Spotlight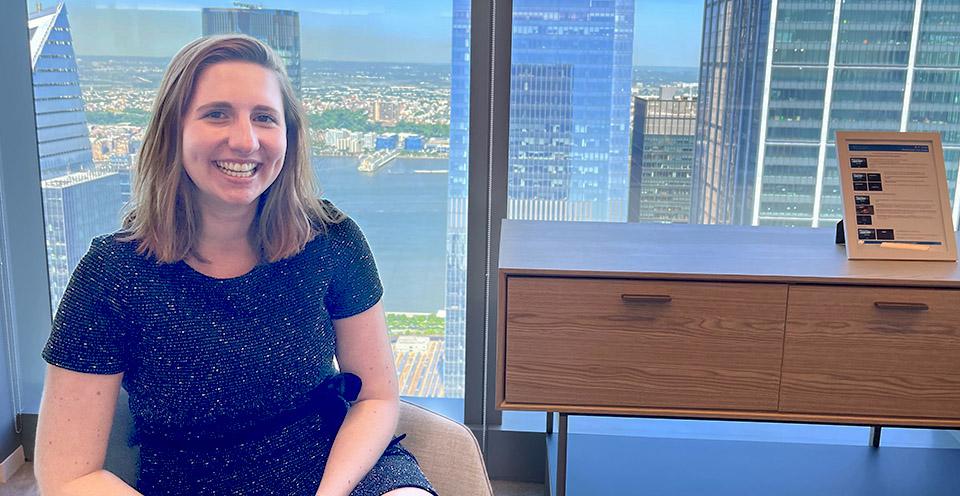 "I'm a Vice President on the Asset Management team. My role involves interacting directly with W. P. Carey tenants to address their needs and work through creative solutions to generate long-term value, including lease renewals, restructures, extensions, redevelopments and expansions.

Our team is uniquely structured in that we are not organized by specific property types or regions. This means that my day-to-day really varies depending on what tenants we're working with, which gives me the opportunity to work on a lot of different types of transactions and keeps things super interesting."
Describe your career journey.
I joined W. P. Carey right after completing my undergraduate degree from Cornell University. I majored in Hotel Administration and minored in Real Estate, which was really what sparked my interest in finance and real estate development. During college I completed an internship on the real estate investments side which I enjoyed, but I ultimately wanted to work in asset management and have the opportunity to foster long-term relationships with tenants. My senior year, I came across W. P. Carey and applied for the Asset Management Analyst position as it seemed like a perfect fit for my interests. I went through the interview process and had a great connection with the team and ultimately was offered the role. Three years in, I still love working with my team and have had the opportunity to grow so much with the company!
What's the best part about WPC?
One of the best parts of W. P. Carey is the people you get to work with every day. It's an incredibly tight-knit culture where everyone gets along, which I think is rare for a company of this size. What's really special is that employees feel connected to what they're doing and invest a lot in the company, and in return the company invests back into the growth and development of its employees.
I also love the flat structure of the company. Right off the bat I had the opportunity to work directly with executives and managing directors who have been in the industry for years, which gave me the opportunity to quickly learn the ins and outs of the company and how W. P. Carey approaches asset management. I think this is unique and provides great visibility for junior staff as they're starting their career.
What do you think it takes to succeed at WPC?
It definitely takes hard work coupled with a willingness to learn and ask questions. You're given a lot of responsibility, so it's important to take ownership of your work and move toward understanding the bigger picture of each transaction.
Put yourself out there, commit to learning every step of the way and stay open-minded!